2021: The Year of Black Women in Wrestling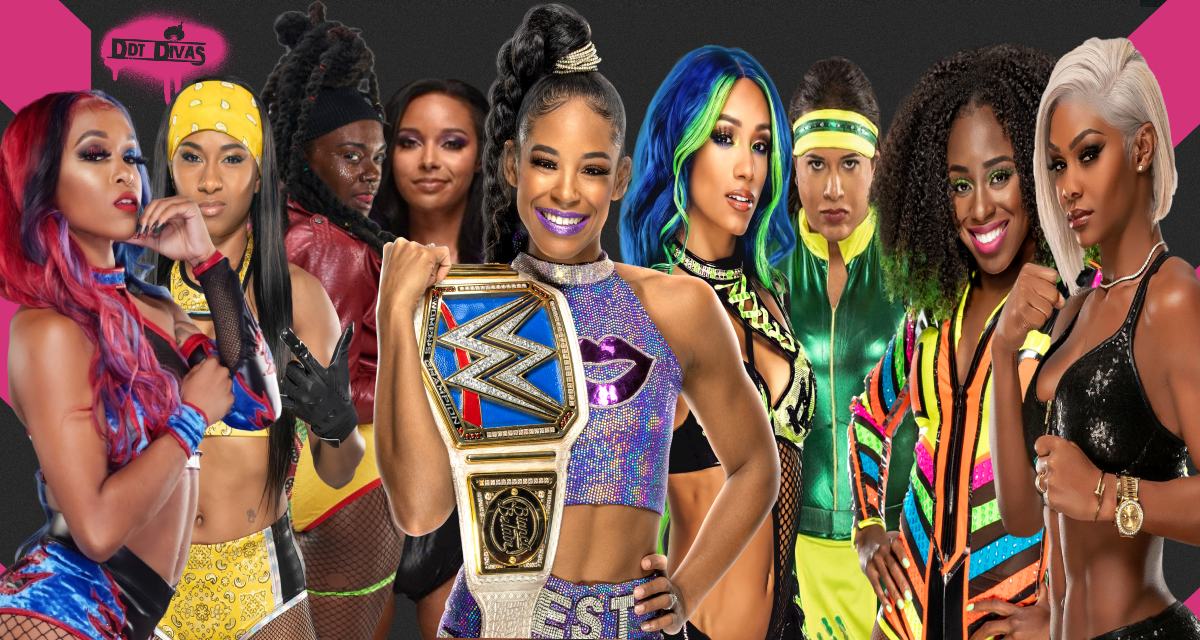 "You have to be twice as good as them to get half of what they have!"– Rowan Pope, Scandal. The "you" being Black women. Rowan Pope may be a fictional character created for a fictional television drama, but the sentiment of that line is based on facts. It's not always fiction when you are a Black woman. It's clear the Internet Wrestling Community (IWC) has a problem with Black women. We, the Black women of the IWC, see it. But still, pushing through all the negativity of the IWC, Black women wrestlers thrived in 2021. So let's reflect on the cool things that Black women wrestlers accomplished in 2021.
Bianca Belair: The EST of 2021 and The Blueprint of 2021: Sasha Banks
2021 was a phenomenal year for WWE superstar Bianca Belair. Her meteoric rise began in January 2021, after winning the 2021 WWE Women's Royal Rumble. Belair would go on to challenge SmackDown women's champion, Sasha Banks. Belair and Banks would make history when they faced off in the Night 1 WrestleMania 37 main event. For the first time in WWE history, two Black wrestlers main evented a WrestleMania. In fact, before Belair and Banks, the only Black WWE superstar to main event a WrestleMania show was The Rock. (The Rock has main evented WrestleMania five times.) Belair defeated Banks to become the SmackDown Women's Champion. Belair reigned as champion for 132 days. Before losing to Belair, Sasha Banks reigned for 167 days as WWE SmackDown Women's champion.
Belair vs Banks was well received by wrestling fans and earned several awards. Their match won a Bumpy Award for Best Match of the Half Year and an Espy Award for Best WWE Moment. Also, Belair ranked #1 on the Pro-Wrestling Illustrated (PWI) Women's 150. Belair is only the second Black woman to rank #1 on the PWI 150. In 2008, Awesome Kong became the first woman and first Black woman to get the #1 ranking. (More on Kong in a bit.)
Jade Cargill is Dominate AF
When is the last time wrestling fans have seen a Black woman as dominant as All Elite Wrestling's Jade Cargill? In a year, Cargill has gained superstar status in AEW. Cargill is the only woman in AEW with a winning record of 22-0 in 2021. Many fans debate the validity of Cargill's record because of the opponent she has faced. But seeing a Black woman beat the breaks off her opponents in less than five minutes, chef kiss!
Since her debut match, where Cargill teamed up with Shaq to take on Red Velvet and Cody Rhodes, Cargill proved she's a top talent. Her ongoing rivalry with Red Velvet is one of AEW's best non-title feuds. She is featured on all four AEW shows, Dynamite, Rampage, Dark Elevation, and Dark. While Cargill didn't win or challenge the AEW Women's World Champion, there is a grand possibility that she may become the inaugural TBS Champion in 2022. AEW's President & CEO Tony Khan has praised Cargill's performance and called her the AEW star Rookie of the Year.
Black Women Doing Big Things In and Out of Wrestling
Did you know that Red Velvet, Jade Cargill, Nyla Rose, and Brandi Rhodes all made wrestling history in 2021? Yes. (In 2022, we need the Black men in AEW to get some shine too.)
Red Velvet
On the March 3, episode of AEW Dynamite, both Jade Cargill and Red Velvet became the first women to wrestle in the opening Dynamite match. Red Velvet would make history again when she wrestled in the first main event of Rampage, challenging Dr. Britt Baker, D.M.D for the AEW Women's World Championship.
Nyla Rose
Nyla Rose has been making wrestling history since AEW's start. Rose became the first transgender wrestler to sign a contract with a major American promotion. In 2020, she became the first-ever trans woman to win a championship in a major American promotion. As well as the first Black and Native woman to win the AEW Women's World Championship and the first Black wrestler in AEW to win a singles championship. Rose has been making history, ain't nothing new and the history-making didn't stop in 2020. In 2021, Rose received her very own AEW Unrivaled action figure (wave 7). She is now the first transgender wrestler signed to a major American promotion to get an action figure.
In December, Marvel Comics announced that Rose will be teaming up with Steve Orlando and David Cutler to publish GIANT-SIZE X-MEN: THUNDERBIRD #1 in April 2022. For those who aren't familiar with X-Men's Thunderbird, John Proudstar is a legendary Marvel hero.
Brandi Rhodes
Rose isn't the only Black woman in AEW to make action figure history, Lil BranBran did too. In May 2021, Brandi Rhodes' Unrivaled action figure was the best-selling AEW action figure sold on Ringside Collectibles. Lil BranBran, the name of Brandi's action figure, outsold top AEW wrestlers Chris Jericho, Kenny Omega, Luchasaurus, Cody Rhodes, Jungle Boy, and Jon Moxley. Brandi Rhodes and her husband Cody Rhodes' reality show Rhodes to the Top aired its first season and is reportedly renewed for a second season. (Read our Rhodes to the Top reviews here.)
Jade Cargill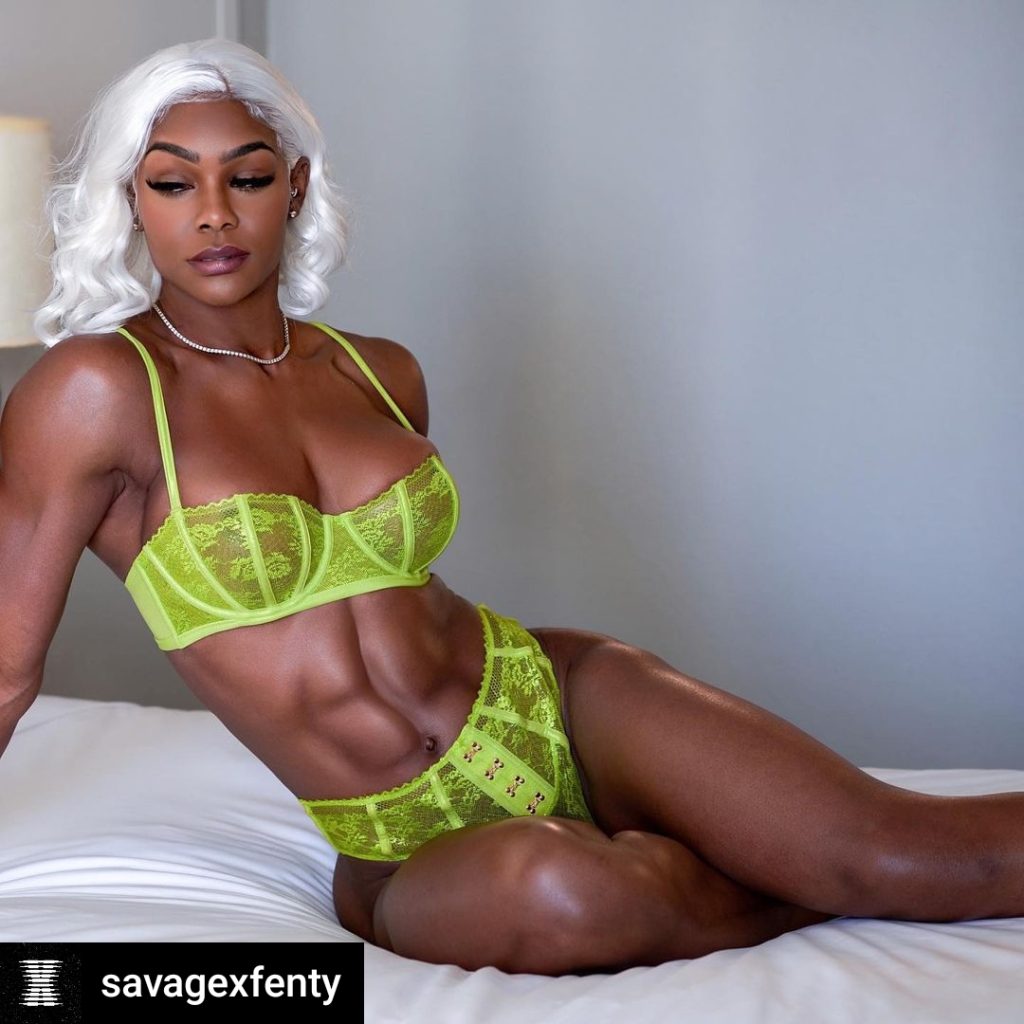 Cargill was recently featured on the Savage X Fenty by Rihanna Instagram page. Cargill's gram photo caption reads, "When u literally hurt 'em for a living 💅🏾 #SavageXIRL"
Naomi
WWE Superstar Naomi made an appearance on the Wendy Williams show. (Hi You Doinnn!) Unfortunately, Wendy wasn't hosting the show that episode, but it was still great to see Naomi appear such an iconic Black talk show. Could you imagine a Wendy, Naomi interaction? During the interview, hosted by Michael Rapaport, Naomi talked about her love of wrestling, becoming the first black woman to win the Smackdown Women's Championship, and what inspired her GLOW gimmick. For years, fans have been demanding that Naomi gets the mainstream media attention she deserves. (Can WWE please acknowledge Naomi's appearances next time, please?)
Super Hot Fire 'N Flava
Kiera Hogan and Tasha Steelz, Fire 'N Flava, were putting tag teams on notice for the first half of 2021. Hogan and Steelz joined forces in a May 2020 episode of IMPACT! and created Fire 'N Flava. The team would go undefeated for months before losing to Rosemary and Taya Valkyrie. After almost eight years of inactivity, IMPACT Wrestling announced at its Bound for Glory 2020 pay-per-view that it was reinstating its Knockouts Tag Team Championship. Eight Knockout tag teams competed in the Impact Knockouts Tag Team Championship Tournament with the final match at Hard to Kill 2021.
And like that, it was on PERIODT. Fire 'N Flava defeated Team Sea Stars in round one. In round two, they defeated Rosemary and Taya Valkyrie. Fire 'N Flava advanced to the finals to defeat Havok and Nevaeh in the tournament final to win at Hard to Kill 2021.
Hogan and Steelz reigned as Knockouts Tag Team champions for 99 days before losing the titles to Jordynne Grace and Rachael Ellering at Rebellion 2021. Fire 'N Flava is the only IMPACT Wrestling Knockouts tag team to win the Knockouts Tag Team Championship twice. Their second title reign lasted for 63 days, giving the team a combined reign of 162 days, the second-longest combined Knockouts tag team title reign in IMPACT Wrestling history.
As champions, Hogan and Steelz faced the best Knockouts in IMPACT Wrestling as well as a successful title defense against Thick and Juicy 2.0, Brooke Valentine and Willow Nightingale, at Game Changer Wrestling's (GCW) For The Culture 2. Fire 'N Flava would split on the August 5 episode of IMPACT Wrestling. While Steelz is still in IMPACT, Hogan is no longer with IMPACT and has been working in NWA and AEW.
Trish Adora: Independent Wrestler of the 2021
Trish Adora is our candidate for Independent Wrestler of 2021. Adora, The Afro-Punk, has had a historic 2021. She has had a long Pan-Afrikan World Diaspora Championship title reign, lasting almost two years. In 2021, Adora has defended her title against many challengers including Suge D, Rache Chanel, Don't Die Miles, Jordan Blade, Eel O'Neal, Darius Carter, and Mazzerati. In August, PWI announced that it will start acknowledging the Pan-Afrikan World Diaspora Championship as a world championship. Titleholders will now be viewed as world champions for rankings purposes. Thus, making Adora a world champion.
She also wrestled in two historic iron matches. In February, Adora faced Tony Deppen in the first-ever intergender 60 minutes Iron Match. The match aired free on YouTube. In July, Adora and Tootie Lynn made wrestling history when they fought in a 30-minute iron-woman match. The two women are the first Black women to wrestle in a 30-minute iron-woman match.
Besides working on the indie wrestling scene, Adora wrestled in Ring of Honor for several months. She even participated in the tournament to crown a new ROH Women's World Champion. While Adora did not win the tournament, she did make it to the semifinals. In a sad twist of fate, Adora signed a contract with ROH a few months before the promotion announced its hiatus and restructuring.
A Magical Wrestling Show
As 2022 approaches, let's end the narrative that indie wrestling isn't for Black people and that there aren't many talented Black wrestlers on the independent scene. Black fans: there are indie companies and shows that are for us and by us (but that's a whole 'nother article).
The first-ever all Black women's wrestling show, ProUnapologetic Presents: Black Girl Magik, was held in June 2021. Black Girl Magik featured an excellent card of top Black women on the indies. Black Girl Magik is a fun and entertaining show to watch. The show's unique cinematography has an old-school wrestling feel. Black Girl Magik can be watched on IWTV.
Black Wrestling Legends Get Their Flowers
In 2021, two great Black wrestling legends were honored for their contributions to pro wrestling: Awesome Kong and Jazz.
Awesome Kong
There were tears all around when Awesome Kong announced her retirement at NWA's Empowerrr pay-per-view in August. Kong, a women's wrestling pioneer, is best known for her time wrestling with Total Nonstop Action Wrestling (TNA)/Impact Wrestling and All Japan Women's Pro-Wrestling (AJW). She worked briefly in AEW and in WWE as Kharma. Kong also worked in ROH, and Shimmer Women Athletes.
Kong, a true trail-blazer, has had an impressive pro-wrestling career. She is a two-time TNA Knockouts Champion and one-time TNA Knockouts Tag Team Champion with tag team partner Hamada. Most wrestling fans will remember Kong's rivalry with fellow Knockout Gail Kim. She is the third woman in WWE to enter the men's Royal Rumble match. In 2008, Kong ranked number 1 on the inaugural PWI Women's 100. Yes. The first woman ever to rank number one and the first Black woman to rank number one on the PWI Women's 100. (It took thirteen years before another Black woman would be ranked number one, Bianca Belair.)
At IMPACT Wrestling's Knockouts Knockdown event in October, it was announced that Kong was the 2021 Impact Hall of Fame inductee. At Bound for Glory 2021, Awesome Kong was inducted into the Impact Hall of Fame by Gail Kim.
Jazz
More tears were shed when Jazz also announced her wrestling retirement. Jazz, a two-time WWE women's champion, has had a long and lustrous career working for companies such as Extreme Championship Wrestling (ECW), NWA, and IMPACT Wrestling. Jazz made wrestling history when she had her WrestleMania moment at WrestleMania X8 in 2002. She is the first black wrestler in WWE history to keep her championship at WrestleMania. Jazz held the NWA World Women's Championship for 948 days before vacating the championship due to personal reasons. Jazz's reign as the champion is the third-longest NWA reign. In 2021, Jazz was honored by several promotions including NWA and IMPACT Wrestling. She was also honored at ProUnapologetic Presents: Black Girl Magik.
Here's to Another Great Year for Black Women in Wrestling
Salute to the Black women who paved the way.
Now more than ever, there are talented Black women in wrestling. So what's next for all the talented Black women in wrestling? Big things! If 2022 is a continuation of 2021, it will be a good year for Black women. There are so many great Black women wrestlers that were not even mentioned in this article. We know they, too, will do great things in 2022.
So cheers! Here's to another great year for Black women in wrestling.
Related